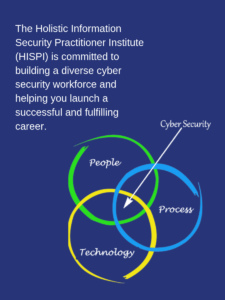 The Holistic Information Security Practitioner (HISP) Institute (HISPI) is an independent training, education and certification 501(c)(3) NonProfit organization promoting a holistic approach to Cybersecurity, consisting of volunteers that are true information security practitioners, such as Chief Information Officers, Chief Risk Officers, Chief Information Security Officers (CISOs), Information Security Officers (ISOs), Information Security Managers, Directors of Information Security, Security Analysts, Security Engineers and Technology Risk Managers from major corporations and organizations.
The HISP certification approach prides itself on ensuring that an educational foundation provided by information security training is the cornerstone of the HISP certification and the HISP Institute.
The HISP framework utilizes the IOCM philosophy based on a unique approach that stands alone in the security, risk management and compliance industry. IOCM is a structure for solving business and compliance problems. The structure includes a powerful methodology, analytical methods and tools, improvement techniques, trained capable People, repeatable mature Processes and optimized Technology. This approach reduces the cost of meeting legal, regulatory and contractual requirements pertaining to information security, across various sectors through the Implement Once Comply Many (IOCM) philosophy.
Certified HISPs leverage the IOCM philosophy to provide a holistic integrated information security management system that will show improved efficiency and reduce waste & cost.
HISPI promotes a holistic approach to information security program management by providing certification opportunities in information security, information assurance and governance.
HISPI focuses on international standards, best practices, and comprehensive frameworks for developing robust and effective information security programs.
Providing training and mentoring solution to those without a technical background exploring Cyber Security as a career.